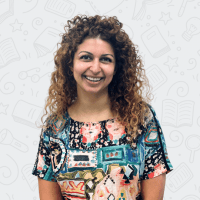 Dr. Suzanne Mashtoub
Maths Tutor
BIOLOGY, CHEMISTRY, SCIENCE, MATHS, STEM
MD Candidate, Flinders University; PhD (Medicine), The University of Adelaide; Graduate Certificate in Education (Higher Education), Flinders University; Bachelor of Science Honours degree (First Class Honours, Physiology), The University of Adelaide; Bachelor of Science (Biomedical Science), The University of Adelaide.
Dr Suzanne Mashtoub is a passionate educator, course developer and business partner at STEM Centre Australia. Suzanne is a Postdoctoral Research Fellow based at the Gastroenterology Department, Women's and Children's Hospital, leading a research team of PhD, Honours and undergraduate students. Additionally, Suzanne is an Adjunct Senior Lecturer and Tutor at the Adelaide Medical School, The University of Adelaide. Suzanne has been accepted into the Doctor of Medicine program at Flinders University, to be completed in 2022. Previously, following a BSc (Biomedical Science) degree, Suzanne completed a BSc Honours degree in Physiology, achieving First Class Honours with the Top Honours in Physiology Cohort Award.
Whilst holding a competitive Australian Postgraduate Award, Suzanne was awarded her PhD in Medicine with the prestigious Adelaide University Dean's Commendation for Doctoral Thesis Excellence in 2013. Thereafter, Suzanne was awarded a highly competitive National Health and Medical Research Council (NHMRC) Early Career (Peter Doherty) Fellowship, was appointed a Research Assistant Professor at The University of Western Australia and completed a Graduate Certificate in Education (Higher Education) from Flinders University. Suzanne has acted as Principal and Co-Supervisor for over 60 University students, published 20 original research manuscripts and a book chapter and presented at 25 international and 30 national conferences. Furthermore, Suzanne has been the recipient of over 40 awards, scholarships and travel grants, most notably including the 2015 SA Tall Poppy Award, 2015 SA Channel 9 Young Achiever Sciences and Technology Award and the 2011 SA Channel 9 Young Achiever Leadership Award. Suzanne has over 15 years of private and group tuition experience in UCAT, Chemistry, Biology, Physics, Mathematics and General Sciences for years 5 to 12.
---
In Need of a Private Tutor?
As Adelaide's tuition center, our complete focus is on developing flexibility in thinking and reasoning, changing attitudes toward learning, and encouraging intellectual independence. We follow the Australian curriculum for years Reception to year 10, SACE curriculum for years 11 – 12, ACER® & Ignite Tuition and support IB (International Baccalaureate) on a group and individual basis.