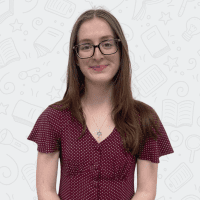 Elise Banks
Maths & English Tutor
Bachelor of Forensic and Analytical Science (Undergraduate), Flinders University
Introducing Elise, one of our exceptional tutors at Tutors SA, specializing in English and Maths for middle to high school students. Elise holds a Bachelor of Forensic and Analytical Science (Undergraduate) from Flinders University, where she is currently completing her Bachelors of Forensic and Analytical Science.
Elise's passion lies in guiding students to think creatively and critically outside the box in her English lessons, helping them unlock their full potential. Her approach to teaching Maths is characterized by a thorough and positive atmosphere, where students are encouraged to question and engage in group discussions, fostering a deeper understanding of mathematical concepts.
Beyond her academic pursuits, Elise brings a wealth of experience working with children of all ages through her involvement in scouts. Having served as Treasurer, Chairperson, and in various leadership positions, she understands the importance of building strong tutor-student relationships. Her extensive experience allows her to connect with students on a personal level, creating a supportive and nurturing environment where they can thrive.
As a tutor, Elise goes beyond delivering lessons and focuses on cultivating critical thinking skills, problem-solving abilities, and a love for learning in her students. Her dedication to their success extends beyond academic achievement, as she aims to empower them with the tools and confidence needed to tackle challenges in all aspects of their lives.
Elise's engaging teaching style, combined with her passion for guiding students, makes her an invaluable asset to the Tutors SA team. Through her dedication, she strives to make a positive impact on her students' educational journey, fostering a love for learning, and helping them reach their full potential. With Elise as their tutor, students can expect a supportive, engaging, and empowering learning experience that encourages growth and success.