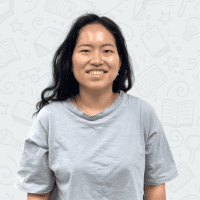 Halin Lee
MedPrep & UCAT tutoring
Bachelor of medicine/ bachelor of surgery (University of Adelaide- Current)
Halin is currently in her third year of medicine at the University of Adelaide. Having studied extensively for the UCAT, she has been exposed to a vast array of questions and is enthusiastic about helping aspiring medical and dental students perform to the best of their ability. She understands the various challenges posed by the test and admissions process and believes in the benefits of continuous support for students.
Halin completed one year of the Bachelor of Health and Medical Sciences at the University of Adelaide before choosing to transfer to the MBBS and achieved a 7.0 GPA. She scored in the 99th percentile for the UCAT.
---
In Need of Local Tutors?
As Adelaide's tuition center, our complete focus is on developing flexibility in thinking and reasoning, changing attitudes toward learning, and encouraging intellectual independence. We follow the Australian curriculum for years Reception to year 10, SACE curriculum for years 11 – 12, ACER® & Ignite Tuition and support IB (International Baccalaureate) on a group and individual basis.