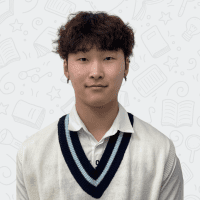 KangHyun Park
Maths & Science Tutor
Bachelor of Science; Bachelor of Medical Radiation Science University of South Australia.
Meet Hyun Park, an accomplished tutor and student pursuing a Bachelor of Science: Bachelor of Medical Radiation Science at the University of South Australia. With an unwavering commitment to education and a passion for helping others learn, Hyun is a valuable addition to our team at Tutors SA.
Hyun's tutoring expertise is marked by outstanding communication and problem-solving skills. He excels in creating a positive learning environment that empowers students to develop their unique skills. His specialization in small group settings, team collaboration, and fostering strong student relations ensures that each learner receives personalized attention and support.
Drawing from his previous tutoring experience, Hyun has honed his skills in various areas, including: motivating students to embrace the joy of learning and studying, thus building self-confidence and diminishing any fear of failure and offering valuable support in the development of effective study habits and exam strategies to help students succeed academically.
Hyun's dedication to education and his proven ability to connect with and inspire students make him an invaluable resource for those seeking academic support. Hyun creates a  nurturing learning experience that not only addresses his students immediate academic needs but also equips them with the skills and confidence to thrive in their studies.
---
In Need of Local Tutors?
As Adelaide's tuition center, our complete focus is on developing flexibility in thinking and reasoning, changing attitudes toward learning, and encouraging intellectual independence. We follow the Australian curriculum for years Reception to year 10, SACE curriculum for years 11 – 12, ACER® & Ignite Tuition and support IB (International Baccalaureate) on a group and individual basis.