Accelerated learning tailored for high achieving students 
Challenge your potential!
Inspired by like-minded, bright students with a strong work ethic. 
Reach your potential in Maths, English and General Science subjects at your own pace. These courses are a unique opportunity to work together in a small group setting to further prepare and excel in high school.
The pathway starts from the ACER® Level 1 Scholarship, Ignite and STEM  Entry Preparation Course, followed by a special stream of extension classes all the way up to Year 12, where students go through extension and accelerated learning following the Australian Curriculum.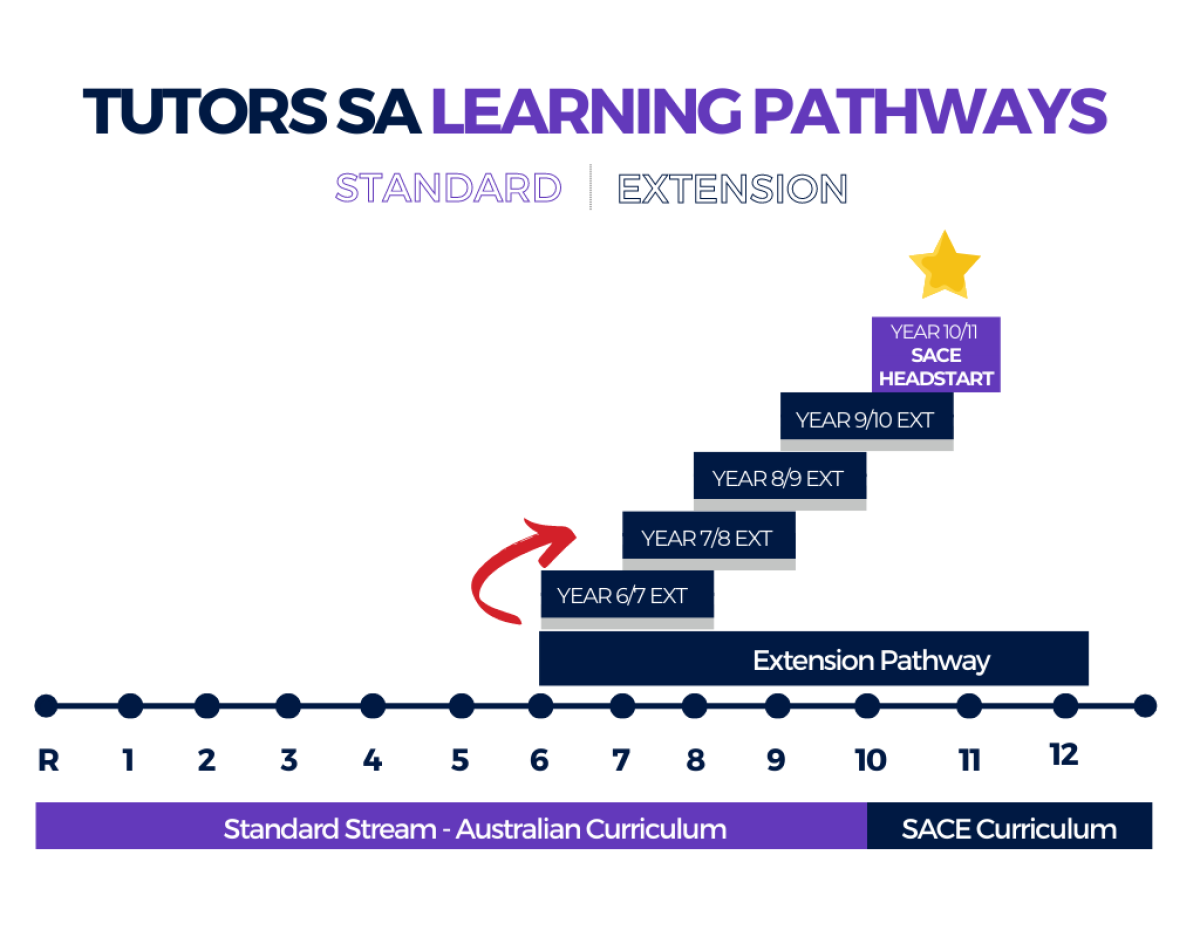 Year 6/7
Year 7/8
Year 8/9
Year 9/10
SACE Head Start
Year 6/7
Tailored for high-achieving Year 6 students who would like to challenge and grow their potential through accelerated learning.
For Year 6 students, the main entry point is "Special Extension Accelerated learning Year 6/7".  Tutoring students will have the opportunity to progress further with our Extension Year 7/8, Year 8/9, Year 9/10 classes and ultimately to our SACE HeadStart Program for Year 10/11 where they can get advanced knowledge and exposure to SACE Stage 1. 
Extension classes Core subjects:  Mathematical Methods, Specialist Maths, Biology, Chemistry and Physics. 
Session times: Each session runs for 3 hours weekly 
Subjects: 1 hour each for Maths, English and General Science
Class Holidays: In line with Tutors SA term dates 
Free Homework Help: Free Maths homework help sessions are provided to students enrolled for this course on Thursdays from 6.00pm-8.00pm during the term at the Campbelltown Centre. No prior bookings are required.
Year 7/8
Year 8/9
Year 9/10
SACE Head Start

Is accelerated learning and extension courses a  good fit for you?
This is a great opportunity for those students who:
Have gone through the ACER/Ignite course at Tutors SA, or
Have been awarded Scholarship (ACER/ACEP) or entry into special accelerated learning programs such as Ignite, STEM Pathways, ALEAP, GifT and other similar programs, or
Have an interest in accelerated learning and  need to be assessed through Tutors SA's free initial assessment.
Before students can enrol into our Extension group lessons, students are required to sit a FREE initial assessment for Maths and/or English at the Campbelltown Centre provided by Tutors SA.

Start planning for your senior years and aim for 99.95 ATAR now. Revisit Year 6 to 10 advanced topics when required for bridging
Faster pace of teaching
Topic enrichment
More exposure to challenging questions (application and problem solving type) to expand their thinking
Develops collaborative skills
Encourages risk taking
Improves time Management and Self-Motivation
Plan your way towards honor opportunities or scholarships