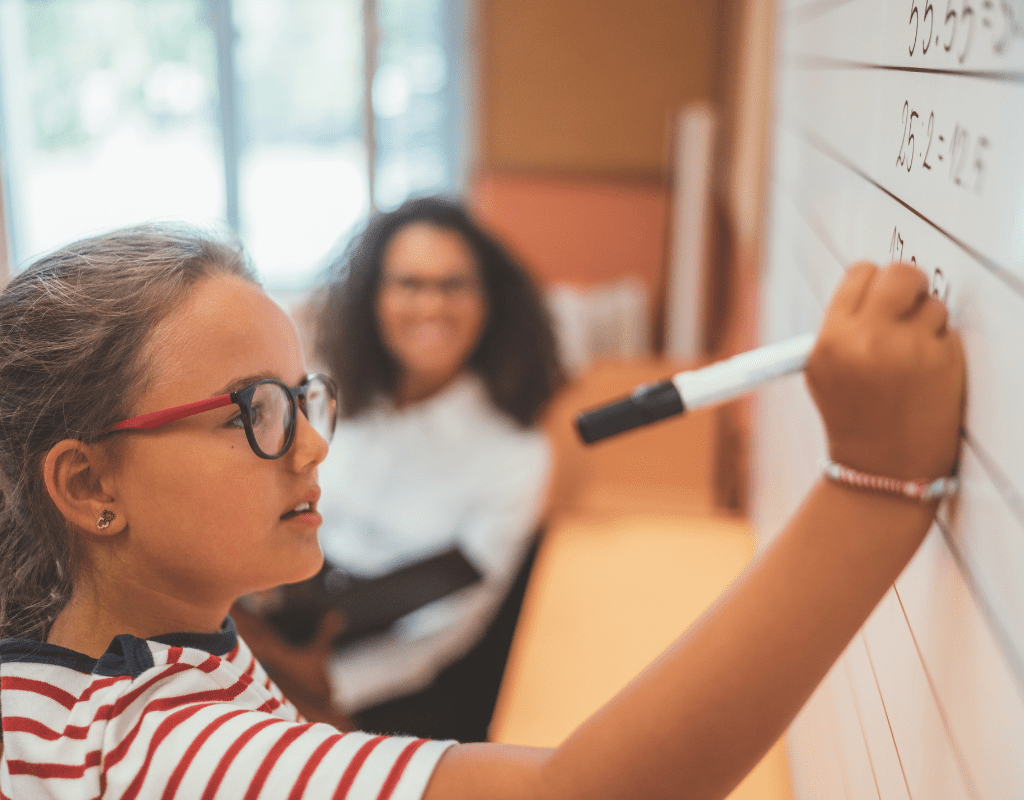 Our Year 1 Maths group tutoring program is designed to aid students in developing the understanding of core Mathematical concepts.
Tutors SA provides your child with a positive learning environment and high-quality educators that gradually unlock students' potential and build their interest in Mathematics.
Year 1 Maths Group tutoring | LEARNING OBJECTIVES

Making use of different yet proven tutoring techniques, our tutors ensure that your child becomes confident with rudimentary addition, subtraction, and short multiplication of numbers and also achieves the capability of understanding and solving problems.
Understanding, fluency, problem-solving and reasoning
Numbers and algebra
Measurement and geometry
Year 1 statistics and probability using everyday language such as 'will happen, 'won't happen' or 'might happen'
| Term  | Term 1  | Term 2  | Term 3  | Term 4 |
| --- | --- | --- | --- | --- |
| Fees: 5%  Discount  | $518.70 | $399.00 | $399.00 | $359.10 |
| Fees: Standard  | $546.00 | $420.00 | $420.00 | $378.00 |
INITIAL ASSESSMENT FOR LEARNING AND DEVELOPMENT
All new students from Reception – Year 10 are required to take an Initial Assessment. All Year 11, 12 Students are NOT required to take the Initial Assessment, and can enroll based on the interested subjects. At Tutors SA we support individualised learning to improve academic progress and provide honest feedback to encourage our students to be the best they can be. We focus on connecting tutors and students for the best fit, ensuring their advancement and helping them achieve thorough subject knowledge and understanding.
ENROLMENT FEES
$50.00 once off enrolment fee for new students enrolling with Tutors SA 
5% early bird discount is applicable for full term advance payments. Please refer to our early bird deadline and fees indicated in
| Period | Start | Finish | Length |
| --- | --- | --- | --- |
| Term 1 | 13 Jan | 12 Apr | 13 Weeks |
| Term 2 | 27 April | 5 Jul | 10 Weeks |
| Term 3 | 20 Jul | 27 Sept | 10 Weeks |
| Term 4 | 12 Oct | 13 Dec 2024 | 9 Weeks |
Class Timetable
| Original Order | Category | Year Level | Subject | Group | Day | From | To | Duration | Location | Room |
| --- | --- | --- | --- | --- | --- | --- | --- | --- | --- | --- |
| 111 | Year 1 - G1 | 1 | Maths | G1 | Saturday | 11:10 AM | 12:10 PM | 1 hour | Campbelltown | 3 |
| 112 | Year 1 - G1 | 1 | English | G1 | Saturday | 12:15 PM | 01:15 PM | 1 hour | Campbelltown | 2 |
| 113 | Year 1 - G2 | 1 | English | G2 | Monday | 04:30 PM | 05:30 PM | 1 hour | Campbelltown | 1 |
| 114 | Year 1 - G2 | 1 | Maths | G2 | Monday | 05:30 PM | 06:30 PM | 1 hour | Campbelltown | 4 |

Donash Education Centre
27 Montacute Road
Campbelltown SA 5074
Course Features
Lectures

0

Quizzes

0

Duration

13 weeks

Skill level

All levels

Students

0

Assessments

Yes