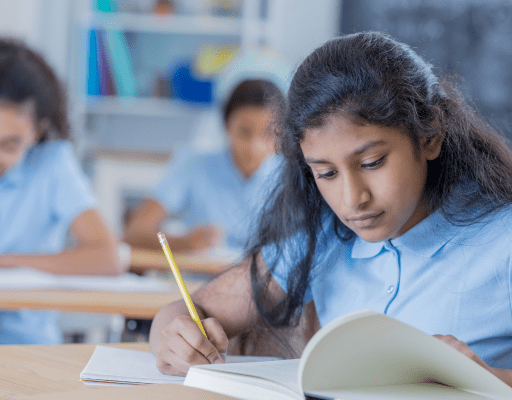 Our Year 6 English Group tutoring Program provides students with the fundamental principles to properly utilise the English language and their literacy skills in all other subjects.
Our tutors structure the course to simplify learning in a fun environment while covering key concepts
Year 6 English Group tutoring | LEARNING OBJECTIVES

Year 6 with Tutors SA, will aid your child in learning to analyse and evaluate text, experimenting with different forms of texts, participation and contribution in a discussion. After year 6, your child will be able to quickly formulate, expand and sharpen ideas and read and write increasingly complex words.
Understand the uses of objective and subjective language and bias
Understand how authors innovate on text structures and play with language features to achieve particular aesthetic
Understand how ideas can be expanded and sharpened through careful choice of verbs, elaborated tenses and a range of adverb groups/phrases
Identify and explain how analytical images like figures, tables, diagrams, maps and graphs contribute to our understanding of verbal information
Identify and explain how choices in language, for example, modality, emphasis, repetition and metaphor, influence personal response to different texts
Experiment with text structures and language features and their effects on creating literary texts
| Term  | Term 1  | Term 2  | Term 3  | Term 4 |
| --- | --- | --- | --- | --- |
| Fees: 5%  Discount  | $518.70 | $399.00 | $399.00 | $359.10 |
| Fees: Standard  | $546.00 | $420.00 | $420.00 | $378.00 |
INITIAL ASSESSMENT FOR LEARNING AND DEVELOPMENT
All new students from Reception – Year 10 are required to take an Initial Assessment. All Year 11, 12 Students are NOT required to take the Initial Assessment, and can enroll based on the interested subjects. At Tutors SA we support individualised learning to improve academic progress and provide honest feedback to encourage our students to be the best they can be. We focus on connecting tutors and students for the best fit, ensuring their advancement and helping them achieve thorough subject knowledge and understanding.
ENROLMENT FEES
$50.00 once off enrolment fee for new students enrolling with Tutors SA 
5% early bird discount is applicable for full term advance payments. Please refer to our early bird deadline and fees indicated in
| Period | Start | Finish | Length |
| --- | --- | --- | --- |
| Term 1 | 13 Jan | 12 Apr | 13 Weeks |
| Term 2 | 27 April | 5 Jul | 10 Weeks |
| Term 3 | 20 Jul | 27 Sept | 10 Weeks |
| Term 4 | 12 Oct | 13 Dec 2024 | 9 Weeks |
Class Timetable
| Original Order | Category | Year Level | Subject | Group | Day | From | To | Duration | Location | Room |
| --- | --- | --- | --- | --- | --- | --- | --- | --- | --- | --- |
| 67 | Year 6 - G1 | 6 | Maths | G1 | Saturday | 03:45 PM | 04:45 PM | 1 hour | Campbelltown | 5 |
| 68 | Year 6 - G1 | 6 | English | G1 | Saturday | 04:45 PM | 05:45 PM | 1 hour | Campbelltown | 10 |
| 69 | Year 6 - G2 | 6 | English | G2 | Saturday | 09:00 AM | 10:00 AM | 1 hour | Campbelltown | 1 |
| 70 | Year 6 - G2 | 6 | Maths | G2 | Saturday | 10:00 AM | 11:00 AM | 1 hour | Campbelltown | 5 |
| 71 | Year 6 - G3 | 6 | Maths | G3 | Wednesday | 05:30 PM | 06:30 PM | 1 hour | Campbelltown | 3 |
| 72 | Year 6 - G3 | 6 | English | G3 | Wednesday | 06:30 PM | 07:30 PM | 1 hour | Campbelltown | 1 |
| 73 | Year 6 - G4 | 6 | Maths | G4 | Tuesday | 05:30 PM | 06:30 PM | 1 hour | Campbelltown | 4 |
| 74 | Year 6 - G4 | 6 | English | G4 | Tuesday | 06:30 PM | 07:30 PM | 1 hour | Campbelltown | 3 |
| 75 | Year 6 - G5 | 6 | Maths | G5 | Thursday | 05:30 PM | 06:30 PM | 1 hour | Campbelltown | 4 |
| 76 | Year 6 - G5 | 6 | English | G5 | Thursday | 06:30 PM | 07:30 PM | 1 hour | Campbelltown | 6 |
| 120 | Years 6/7 Ext | 6 / 7 | Extension Science | G1 | Sunday | 02:00 PM | 03:00 PM | 1 hour | Campbelltown | 2 |
| 121 | Years 6/7 Ext | 6 / 7 | Extension Maths | G1 | Sunday | 03:00 PM | 04:00 PM | 1 hour | Campbelltown | 7 |
| 122 | Years 6/7 Ext | 6 / 7 | Extension English | G1 | Sunday | 04:00 PM | 05:00 PM | 1 hour | Campbelltown | 1 |

Donash Education Centre
27 Montacute Road
Campbelltown SA 5074
Course Features
Lectures

0

Quizzes

0

Duration

13 weeks

Skill level

All levels

Students

0

Assessments

Yes