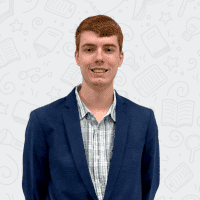 Ryan Clarke
Maths and Science Tutor

SCIENCE, BIOLOGY, CHEMISTRY, GENERAL MATHS, MATH METHODS, SPECIALIST MATHS
Bachelor of Secondary Education (Honors) (University of South Australia)
Introducing Ryan, our highly skilled Maths and Physics tutor at Tutors SA. Currently pursuing a Bachelor of Secondary Education (Honors) at the University of South Australia, Ryan has been actively engaged in the field of tutoring for two years, specializing in Mathematics, Physics, Biology, and General Science.
With an extensive background in tutoring, Ryan has a wealth of experience in teaching STEM subjects, including hands-on Robotics and programming. His diverse skill set allows him to provide comprehensive support and guidance to his students, ensuring a well-rounded educational experience.
Ryan's exceptional academic achievements are a testament to his dedication and passion for learning. With a raw ATAR of 99.95 and being the runner-up DUX at his school, he demonstrated his commitment to excellence. These achievements paved the way for his perfect selection rank, enabling him to pursue Honors studies.
As a tutor, Ryan is known for his enthusiasm and motivation. He brings up-to-date knowledge and relevant experiences into his tutoring sessions, ensuring that his students receive the most current information and practical applications of the subjects. Ryan's interactive and proactive learning style encourages students to actively engage in their own learning process, fostering a sense of ownership and enthusiasm for the subjects he teaches.
Ryan's commitment to his students' success extends beyond academics. He strives to create a supportive and nurturing environment where students feel empowered to ask questions, explore new ideas, and overcome challenges. His approachable nature and motivational teaching style inspire students to push their boundaries and achieve their full potential.
At Tutors SA, we are privileged to have Ryan as part of our team of exceptional educators. With his up-to-date knowledge, extensive tutoring experience, and dedication to student growth, he plays a pivotal role in helping students excel in Mathematics, Physics, Biology, and General Science. With Ryan as their tutor, students can expect an engaging and interactive learning experience that fosters critical thinking skills, academic growth, and a genuine love for learning.
---
In Need of a Private Tutor?
As Adelaide's tuition center, our complete focus is on developing flexibility in thinking and reasoning, changing attitudes toward learning, and encouraging intellectual independence. We follow the Australian curriculum for years Reception to year 10, SACE curriculum for years 11 – 12, ACER® & Ignite Tuition and support IB (International Baccalaureate) on a group and individual basis.