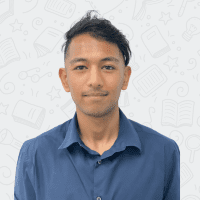 Aaryan Gusain
Maths & Science Tutor
Bachelor of Science (Honours) (Advanced)(Physics)University of Adelaide
Meet Aaryan, our dedicated high school and SACE Maths tutor at Tutors SA.
Aaryan is currently in his second year of university, pursuing a Bachelor of Science (Honours) (Advanced) in Physics at the University of Adelaide, where he has been cultivating a strong foundation in the principles of the physical sciences. This academic journey has been fueled by his unwavering passion for education and his deep commitment to making a positive impact on the academic lives of students.
With his extensive knowledge of Mathematics and Physics, Aaryan leverages his skills to guide students through challenging subjects. He brings invaluable experience from his prior tutoring engagements, where he successfully helped students grasp complex concepts and build their academic confidence.
Aaryan's dedication to excellence in education allows him to thrive when working with a diverse range of students and is determined to provide them with the support they need to reach their academic goals.
Aaryan's academic pursuits in physics underscore his commitment to continuous learning and intellectual growth, ensuring that he remains well-prepared to assist students in achieving their educational aspirations. His dedication, coupled with his comprehensive subject knowledge, makes him an exceptional resource for students seeking guidance in the world of mathematics and physics.
---
In Need of Local Tutors?
As Adelaide's tuition center, our complete focus is on developing flexibility in thinking and reasoning, changing attitudes toward learning, and encouraging intellectual independence. We follow the Australian curriculum for years Reception to year 10, SACE curriculum for years 11 – 12, ACER® & Ignite Tuition and support IB (International Baccalaureate) on a group and individual basis.